Eiffel Tower
The first floor is located on 57m from the ground, walk on transparent glass and enjoy breathtaking monumental view.
On the second floor, which is located on 115m from the ground you can enjoy great Parisian landscape and then have some souvenirs from 3 souvenir shops which are located on the same floor, or just have coffee in the cafe or view the platform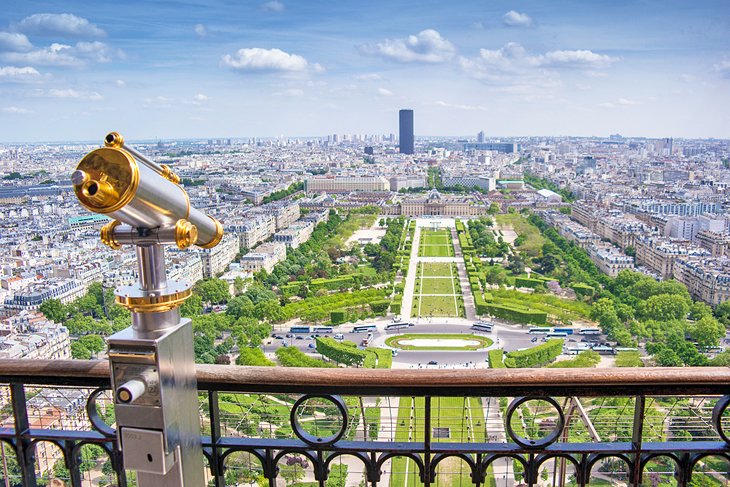 If you're brave enough to climb to the third floor you will see whole Paris landscape or visit the champagne bar and have a drink.
Louvre museum
Louvre Museum Is the biggest museum in the world, the museum offers about 380.000 masterpieces to see, agreed it is impossible to see everything in one visit, but you can try your best!
So, let's get started
Louvre is open at 9.00am to 6.00pm, closed every Tuesday and on January 1st, May 1st and December 25th every year, everything is easy!
Where you can buy tickets? You can do it online, or after security check inside the museum you can find ticket offices or machines, for permanent collections you pay €12. And a small tip Louvre entrance is free every first Sunday of every month every year.
Try to visit Louvre early in the morning when it opens in order to see as much as you can.
Versailles
Palace of Versailles
Versailles is open
From November to March
Entrance Fees are €15 for Palace and €10 for Trianon Palaces and Marie-Antoinette's Estate
The only advice we can give concerning Versailles - get there as early as possible, because the queue is really long.
The Palace of Versailles was build during the reign of King Louis XIV.
The Palace of Versailles contains 700 rooms! Palace is executed in the French baroque style with it's beautiful columns, high domes, curved forms. Hard to express or describe the majesty of the Palace, you just have to see it by your eyes!
Musée Rodin
Visit Musee Rodin and You'll see many Sculpture masterpieces of famous artist Auguste Rodin!
Rodin is well known as a creator and innovator of modern sculpture, He was not only a great sculpture artist, he was also known for his magnificent paintings and sketches.
A great thing you need to know before visiting Musee Rodin it is open at 10:00 - 17:45 daily (except Mondays) every year!
Full price - € 10
Cathedral Notre - Dame de Paris welcomes you everyday from 8:00-18:45!
There is no entrance fee, You pay only for climbing up to bell (€8.50).
Cathedral Notre - Dame is one of the greatest examples of French Gothic Architecture, must see for every Traveler.
So, the Salvador Dali Museum (Espèce Dali Paris) is open everyday from 10:00 - 18:00
The entrance fee is €11.50
Welcome to Dali's surrealistic world!